It's been nearly a year since my last post. At about that time I felt like my future was up in the air, and the last thing I felt like doing was playing with trains. In the time since, I've sold the NZ120 modules and got on with other things.
But... inevitably when things did settle down at home I got into the hobby again. I have a new big project underway. It's an American N Scale layout built in three sections. It has a decent sized loop and in based in New Mexico. I guess I'm about halfway finished this. Here are some pictures of the new layout.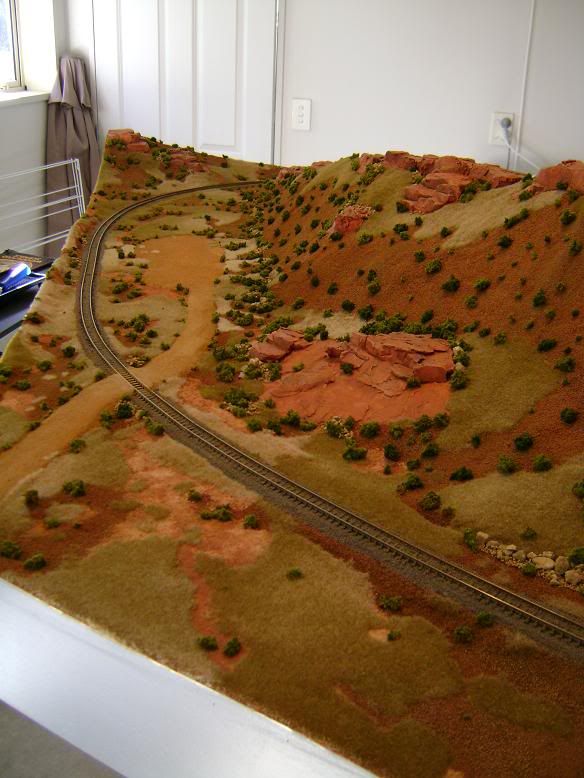 The inspiration for this come from a trip I took to America in October last year when I rode the Southwest Chief from Los Angeles to Chicago. It was an awesome trip on which I saw a lot of pumpkin orange BNSF units, of which I now have several Kato N scale versions.
I'm also edging my way back toward Free-mo. Unfortunately it won't be in NZ120. Though I love the idea of modelling the New Zealand protoype, one thing I discovered whilst building the previous modules is that my interest in model rail is definitely in building layouts and especially scenery. When it comes to acquiring rolling stock, RTR is my favoured option for a number of reasons, and this is the fatal point for NZ120 for me. Lazy of me, I know.
So, my re-entry into Free-mo will be in another prototype and scale... More on this soon.